20 Maoists gunned down during massive operation in Orissa
Bhubaneswar, Mon, 18 Feb 2008
Deepak Kumar Mohanty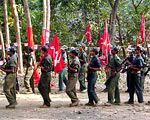 In an intense anti-Maoists operation being underway in five major districts of Orissa have brought positive results so far in the state, as the government claimed highly of the security forces that have gunned down at least 20 Maoists in the said operations.
The state police also claimed to have recovered large quantities of arms and ammunition from various places during the raids.
After Friday's Maoists attack in Nayagarh district of Orissa in which 14 persons were killed including 13 policemen had forced the state government and Centre to initiate a massive operation against the growing Maoists influence.
As per the report over 500 Maoists who attacked Nayagarh police station and looted two district armouries is so far the biggest Maoists attack in any district of the state. In the fierce gun battle three police personnel are also reportedly killed.
Since Saturday the administration has set out at least 600 security personnel, including CRPF jawans, state armed forces, Special Operation Group (SOG) and additional commandos to hunt down the hiding Maoists in five major districts: Rayagada, Gajapati, Ganjam, Nayagarh and forest areas of Kandhamal.
To assist the ground forces two choppers are also brought into service in order to have a clear-cut idea of the movement of the extremists. Two companies of Greyhound Forces of Andhra Pradesh are also called up to assist in the process.
The Union Home Ministry, which earlier condemned the Naxals attack in Orissa, is in touch with the state government and extended all its support to take strong action against the extremists.
Earlier on Saturday the Centre had sent a high-level team of officers from Ministry of Home Affairs, para-military forces and other security agencies to take stock of the situation.
Meanwhile the opposition who are demanding a special discussion on the present Naxal attack and intelligence failure have stalled the proceedings and following which speaker has to adjourn the house till 12-30 pm on Monday.
LATEST IMAGES

MORE...
Social bookmark this page
Post comments: