Anna associate Prashant Bhushan gets notice
New Delhi, Sat, 03 Sep 2011
NI Wire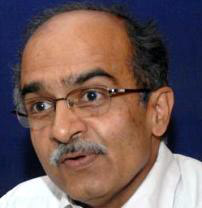 New Delhi: Prashant Bhushan of Team Anna confirmed that he has received a breach of privilege notice from parliament for his remarks against the parliamentarians during Anna Hazare's campaign against corruption.
It is to recall that lawyer and civil society activist Bhushan addressing the gathering at Ramlila Maidan had said, "MPs take bribes to pass laws".
Terming the notice as totally unjustified, Bhushan told, "if speaking the truth in public interest amounts to breach of privilege, then time has come for the country to review the whole notion of parliamentary privileges." He has been asked to file a reply by September 14.
Bhushan is not the only member of Team Anna who has received such a notice; distinguished former IPS officer Kiran Bedi and actor Om Puri were issued similar notice for passing comments against the lawmakers.
Kiran Bedi had accused politicians of wearing "several masks" at the same time. However, she has told that she will not "apologise" for her remarks against politicians, but intends to show a "bigger mirror" to the House on the conduct of lawmakers.
She said whatever she had said was in reference to a situation, where it was needed to be said. "The truth has to be said. I didn't have any other option as we didn't know whether we would have a resolution," she added.
This is not all, lately, another architect of the India Against Corruption campaign Arvind Kejriwal was issued an Income Tax notices to repay his dues, which he termed as an act of political vendetta. The notice was served a week before Anna Hazare began his August 16 fast.
In reply to media persons' question, the Union Law Minister Salman Khurshid has however clarified that the notice to Kejriwal is not an act of enmity as the government respects all those who are trying to bring about a change in the country and the government is equally concerned on the issue of corruption.
Team Anna has accused the government of deliberately harassing its members. While one may ponder over the fact that whether a notice to Kejriwal is only a matter of coincidence or the other way, it is certainly to underline that the breach of privilege notices to Bhushan and Bedi are certainly to score a point over the supremacy of parliamentarians.
LATEST IMAGES

MORE...
Social bookmark this page
Post comments: