Mumbai Blast: SC refuses to grant bail to Rubina Memon
New Delhi, Tue, 12 Feb 2008
NI Wire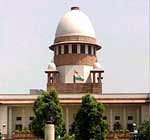 The apex court on Tuesday rejected one of the convict Rubina Suleiman Memon's bail plea who is serving a life imprisonment in connection with the Mumbai bomb blast in 1993.
Rubeena was proved guilty of letting her Maruti van used by other convicts who later used the van as an explosive carrier. She is the sister-in-law of one of the prime accused Tiger Memon, who is absconding and yet to come under police reach.
Reportedly the Supreme Court also directed to set up a medical board in order to examine the condition of another convict Yusuf Memon who has some kind of complex neurological disorder.
Yusuf Memon is the younger brother of Tiger Memon and was sentenced to life-term for his alleged involvement in the 1993 Mumbai bomb blast by allowing his flat to be used as a conspiracy centre.
The dreadful 1993 Mumbai bomb blast in the finance capital of India, Mumbai, killed at least 257 persons and injured double the number. After thirteen years of the incident the special TADA court first in September, 2006, convicted four of Memon family of being part of such a high conspiracy against the nation and carrying out the serial blast.
The court had earlier granted bail to Essa Memon, the younger brother of Yusuf Memon who was sentenced to life imprisonment but granted bail as he had already spent a long period of 13 years in jail during the trail. He was also permitted to challenge the judgment against him.
The Supreme Court had earlier granted bail to Bollywood actor Sanjay Dutt, who has been sentenced to six years of rigorous imprisonment under the Arms Act of TADA court. Also the court has stayed the death sentence to Yaqub Memon till further order in its Jan 28, 2008 judgement.
In the protract trail the TADA court had convicted 100 persons for their involvement in the serial blasts. It is believed that the criminal activity was undertaken to settle score of the 1992 communal riots, which has taken place in the aftermath of the demolition of Babri Masjid in December 1992.
LATEST IMAGES

MORE...
Social bookmark this page
Post comments: