Meghalaya, Nagaland, Tripura to have single-phase assembly poll: EC
New Delhi, Tue, 15 Jan 2008
NI Wire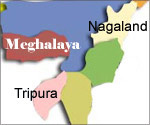 The Election Commission of India has decided to conduct a single-phase assembly election in three north-eastern states Meghalaya, Nagaland and Tripura on Feb 23, March 3 & 5 respectively.
According to the press statement released on Monday, the commission clearly stated that the General Elections will be conducted in these states as the legislative assemblies are due to expire on its normal schedule of March 10, March 13 and March 19 respectively.
In each state there are 60 assembly constituencies and the commission will have to take all necessary steps to ensure a free and fair election with the model code of conduct.
Meghalaya: The state Legislative Assemblies have 60 members of which 55 reserved for the Scheduled Tribes (ST). The assembly has also two representatives in the lower house of Parliament i.e. Lok Sabha.
The commission has identified 1582 polling stations for over 12 lakh voters in the state. In all these polling stations electronic voting machines will be placed.
The last date for filing and withdrawing nomination paper is Feb 15 and Feb 18 respectively. Counting for Meghalaya assembly will take place on March 07.
Nagaland: The 60-member Constituent Assembly holds 59 seats as reserved for ST category. The last date for filing nomination paper is Feb 16 and the last date for withdrawal nomination is Feb 20.
Counting will be taken place on March 08. The commission has to arrange EVMs and security for all the 1586 polling booths prior to the March 5 polling.
Tripura: The 60-member assembly of the state constitutes has 20 seats reserved for STs and 7 for SCs.
Filing of nomination paper for Feb 23 polling in the state begins on Jan 30 and ends on Feb 06. The last date for withdrawing nomination is Feb 09.
The EC has notified to conduct the poll in 2372 polling stations. For Tripura the day of counting of votes is same as Meghalaya on March 07.
Model Code of Conduct: With the announcement, the Chief Election Commissioner N. Gopalaswami has also made it clear that the 'Model Code of Conduct' comes into effect immediate from now onwards.
The Election Commission has also given instruction to state administrations that no election related officials including police officers above the rank of Sub Inspector should allow to place in his own constituencies.
Also police officers who have completed tenure of three years counting from the last four years should be transferred out of the particular district.
Apart from the state governments are also asked to transfer all those officers who are serving disciplinary actions as per the direction of the commission for any election related works. Those persons should be kept out from any election related duties.
LATEST IMAGES

MORE...
Social bookmark this page
Post comments: