Poster Boys Sunny Deol, Bobby Deol and Shreyas Talpade kick start promotions for their film!
Bollywood, Sat, 26 Aug 2017
NI Wire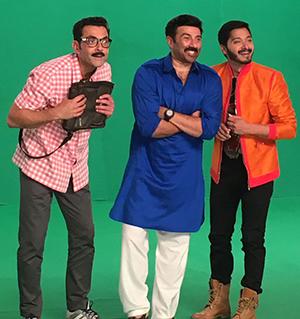 Mumbai: Sunny Deol, Bobby Deol and Shreyas Talpade are all set to tickle the audience's funny bone with their upcoming comical venture Poster Boys. The actors have started promoting the film in full swing.
In fact, they even shot some hilarious promos and have planned some exciting things to showcase to their audience.
To this actor-director Shreyas Talpade said, "I really enjoyed shooting the film with the Deols and I am sure promoting the film with them will be equally fun. We plan to do lot of fun things to connect with the audience and reach out to them in every possible way."
After the kind of storm the trailer created, we're sure the audience can't wait to see the kind of antics the three have in store for them!
"I have been getting a lot of positive feedback on the trailer and the two songs that we have released and I am very excited to show my film to the world," Talpade added.
Well at a time where promotions have become extremely crucial for a film, we're sure that the makers of Poster Boys will go all out to connect with the audience.
Poster Boys is produced by Sony Pictures Networks Productions, Sunny Sounds Pvt Ltd, Shreyas Talpade and Deepti Talpade. A light hearted comedy-drama starring Sunny Deol, Bobby Deol and Shreyas Talpade.
Directed by Shreyas Talpade, the film is slated to release on September 8th, 2017.