Delhi BJP's Panch Parmeshwar Sammelan to be held on 25th March in Ramila Maidan
New Delhi, Sat, 25 Mar 2017
NI Wire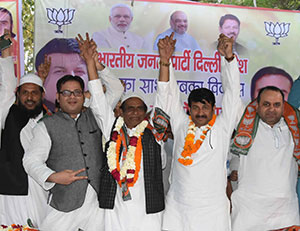 Delhi BJP has termed the Booth level workers as Panch Parmeshwar and the BJP National President Shri Amit Shah will launch the election campaign for the upcoming MCD elections tomorrow - Manoj Tiwari
The ensuing MCD election is an opportunity for the voters of Delhi to give mandate against the Government involved in corruption, nepotism & stalling development works and hope that the people will give a reasonable mandate – Vinay Sahastrabuddhe
New Delhi, 24th March: BJP Delhi Pradesh today held a Press Conference in connection with the Panch Parmeshwar Conference to be held on Saturday the 25th March in Ramila Maidan the venue of conference. In the presence of National Vice President and MP Shri Vinay Sahastrabudhe, Pradesh Incharge Shri Shyam Jaju, Co-Incharge Shri Tarun Chugh, Booth Management Convener Shri Tilak Raj Kataria and Co-Convener Shri Harsh Deep Malhotra and Pradesh Office bearers Shri Rajiv Babbar, Smt. Kamaljeet Sehrawat, Shri Harish Khurana, Shri Ashok Goel, Shri Naveen Kumar & Shri Tajinder Pal Singh Baggha. Pradesh President Shri Manoj Tiwari said that completing the first phase of the organizational preparations for the upcoming MCD elections a conference of the workers connected with all the 13372 polling booths of Delhi has been organized on Saturday the 25th March.
Delhi BJP has termed the Booth level workers as Panch Parmeshwar and the BJP National President Shri Amit Shah will launch the election campaign for the upcoming MCD elections by addressing this conference. Urban Development Minister Shri M. Venkaiah Naidu & BJP National Organization General Secretary Shri Ramlal and all the MPs from Delhi and the senior leaders/office bearers will guide the workers on this occasion.
Shri Tiwari said that the Ramlila Maidan has been divided into 14 enclosures in the order of BJP's 14 organizational districts and LED screens are being installed in each enclosure so that the workers may easily listen to the address of National President Shri Amit Shah. The workers are themselves making arrangement for refreshment etc. in this programme.
Replying to the questions of the media persons the BJP National Vice President Shri Vinay Sahastrabuddhe said that due to the mis-governance of the President Delhi Government, the development works have stopped and the National Capital has become centre of anarchy and corruption.
Shri Sahastrabuddhe said that the ensuing MCD election is an opportunity for the voters of Delhi to give mandate against the Government involved in corruption, nepotism & stalling development works and hope that the people will give a reasonable mandate.