Leader Of Opposition Shows Mirror Of Reality To The Budget Proposals Of The Delhi Government
New Delhi, Sat, 11 Mar 2017
NI Wire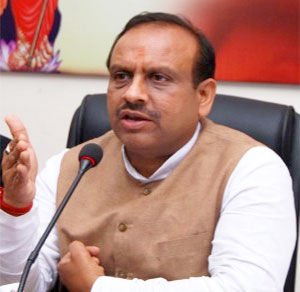 Replying today to the Budget Speech of Deputy CM and Finance Minister, Manish Sisodia for the year 2017-18, Leader of Opposition, Vijender Gupta showed the mirror of reality to the Government on different facets of the Budget proposals. The Government did not seem to have convincing reply to his probing and in depth questions . He questioned the wisdom and reality of the much publicized 'outcome' Budget. He said that despite his best efforts he could not locate the quantifiable output and outcome indicators in the budget documents.
The so called outcome Budget, he said has no base and is destined to be failure. He waived the Book entitiled "Swaraj" written by Arvind Kejriwal in the House and questioned the absence of public participation approach in Budget making. He questioned why the Mohalla Sabhas have not come into existence despite allocation of Rs. 650 crores during the last two years.
Vijender Gupta exposed the hollowness of the Government's claim the Budgetary allocation for Education has been doubled and for Health has been increased by one and a half. He questioned what happened to Wifi promised in the Election Manifesto of the AAP Government. He asked why the scheme of CCTV cameras has been abandoned. He charged the Government not doing justice to the SC and OBC communities. He wanted to know why the Budget allocation for these communities has been pegged at 0.8 % whereas it is more than 4 % in other States.
Leader of Opposition questioned why the demonetization has brought lower revenue only in Delhi and West Bengal. He wanted the Finance Minister to probe it. He wanted to know why the Finance Minister did not take the House in confidence that the minimum wages proposal of the Government have been stayed by the High Court. He wanted the Government to at least ensure that all the daily wagers in private sector are paid minimum wages at the existing approved rates.
Vijender Gupta expressed concerned that the Government is presenting deficit Budget year after year. He said that 80% of the Budget is being spent on salary, wages and other administrative responsibilities. Only 20% Budget is spent on development works.
Leader of Opposition said that the Government took pride in announcing that it has made an allocation of Rs. 7571 crores to the Local Bodies in 2017-18. It is sad that in view of poor financial position of North and East Municipal Corporations, the Government has not recovered outstanding loan liabilities during the last two years from the grants being released to them. He hid the fact that the Government will continue to lay the 13% interest for the period and it propose to recover 797 crores during the coming financial year.