Jeevan Raksha Padak Awards - 2016 announced
New Delhi, Wed, 25 Jan 2017
NI Wire
null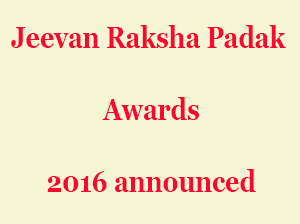 The President of India has approved the conferment of Jeevan Raksha Padak Series of Awards - 2016 on 36 persons which includes Sarvottam Jeevan Raksha Padak to 05, Uttam Jeevan Raksha Padak to 08 and Jeevan Raksha Padak to 23 persons; 07 awards are posthumous.
The details are as under:-
Sarvottam Jeevan Raksha Padak
1. Ms. Roluahpuii (Posthumous), Mizoram
2. Shri Shishir Kumar Yadavannavr (Posthumous), Karnataka
3. Shri Vadmitra Choudhary, (Posthumous), Uttar Pradesh
4. Shri Rakesh Kumar CN (Posthumous), Karnataka
5. Shri Suresh NB (Posthumous), Kerala
Uttam Jeevan Raksha Padak
1. Shri Mrigesh Narayan Barua, Assam
2. Dr. C. Gopakumar (Posthumous), Kerala
3. Shri Govind Laxman Tupe, Maharashtra
4. Shri Churchill, Mizoram
5. Smt. Roluahpuii, Mizoram
6. Shri Bir Bajrangbali Pandey, West Bengal
7. Master Maurice Yengkhom, Manipur
8. Master Shivansh Singh (Posthumous), Uttar Pradesh
Jeevan Raksha Padak
1. Shri Yashwant Kumar Pisda, Chhattisgarh
2. Shri Dara Singh, Haryana
3. Shri Dinesh Kumar, Himachal Pradesh
4. Shri Ratheeshan Nambolan, Kerala
5. Master Anandhakrishnan A, Kerala
6. Master Akhil K. Shibu, Kerala
7. Shri Tejesh Brijlal Sonawane, Maharashtra
8. Shri Manoj Sudhakarrao Barahate, Maharashtra
9. Shri Isac Lalrinchhana, Mizoram
10. Shri Lalmohan Mohanta, Odisha
11. Kum. Nazia, Uttar Pradesh
12. Shri Pankaj Kumar Pandey, Tamil Nadu
13. Shri Anoop Mishra, Uttar Pradesh
14. Shri Kapil Kumar Shishodia, Uttar Pradesh
15. Shri Neelkant Ramesh Harikantra, Maharashtra
16. Shri Manohar Mahato, West Bengal
17. Shri Balen Rajbongshi, West Bengal
18. Shri Dharmendra Kumar Yadav, West Bengal
19. Master Kamlesh Pradhan, Chhattisgarh
20. Kum. Angelica Tynsong, Meghalaya
21. Master Sai Krishna Akhil Kilambi, Telangana
22. Shri Tshewana Thinlay Lachungpa, Sikkim
23. Shri Altaf Ahmed Khan, Jammu & Kashmir
Jeevan Raksha Padak series of awards are given to a person for meritorious act of humane nature in saving the life of a person. The award is given in three categories, namely, Sarvottam Jeevan Raksha Padak, Uttam Jeevan Raksha Padak and Jeevan Raksha Padak. Persons of either sex in all walks of life are eligible for these awards. The award can also be conferred posthumously.
The decoration of the award (medal, certificate signed by the Home Minister and demand draft for lump sum monetary allowance) is presented to the awardee in due course by the respective State Government to which the awardee belongs.
Source: PIB
null