Delhi witnesses lowest temperature due to intense cold wave
Delhi, Wed, 11 Jan 2017
NI Wire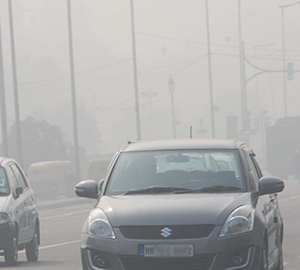 The nation capital, Delhi witnessed a chilly morning with the minimum temperature further dropping to four degrees Celsius. This temperature was recorded three notches below the season's average and the lowest this season.
As the cold wave intensifies, the nation capital Delhi shivers and temperature fell down. Delhi is near Shimla and such other cities where snowfall is recorded, due to this reason intense cold wave made Delhi to shiver. The minimum temperature was 5.2 degrees Celsius recorded on Tuesday.
The India Meteorological Department (IMD) forecast no rain and predicted the cold wave could mellow down from January 13 onwards. According to the IMD, the minimum temperature was expected to be four degrees Celsius while the maximum temperature on today was likely to hover around 17 degrees.
As an IMD official predicted about the weather that, "The sky will remain clear with shallow to moderate fog in the morning."
The visibility at 8.30 a.m. was recorded as 1,200 metres at Safdarjung and the humidity was 85 per cent. According to the weather official, the maximum temperature settled at 17.8 degrees Celsius, two notches below the season's average.
--with agency inputs