Rahul says, Achhe din will come when Congress comes to power
Delhi, Wed, 11 Jan 2017
NI Wire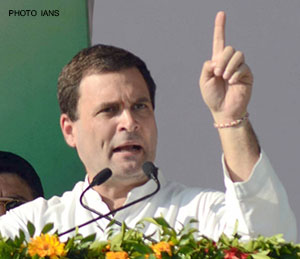 The Congress Vice President Rahul Gandhi accused the Prime Minister Narendra Modi for not bringing 'achhe din', and also targeted the Prime Minister over the issue of demonetisation. Rahul also said that the 'achhe din' promised by the BJP will come only in 2019 when congress comes to power.
The Congress party began its Jan Vedana convention and it was scheduled that Rahul Gandhi will address the convention. Speaking at the Jan Vedna convention of the Congress, Rahul Gandhi said the Bharatiya Janata Party and the Rashtriya Swayamsevak Sangh were undermining the constitutional institutions like Reserve Bank of India, judiciary and the Election Commission.
Rahul Gandhi said the demonetisation move was not RBI's decision but a "personal decision" of Prime Minister Narendra Modi. He said, "Modiji is the first Prime Minister of India who is being ridiculed across the world... He is jumping from Clean India to surgical strikes to demonetisation."
The Congress Vice-President added, "And people are left wondering when will the achhe din (good days) come. Achhe din will come only in 2019 when the Congress comes back to power."
He further added that Modi and the BJP had the habit of asking what the successive Congress governments did in 70 years since Independence.
Targeting the Prime Minister, he said "People of this country know what Congress did or did not do. They gave not only their sweat but their blood in each and every state of the nation... How many BJP workers gave their blood?"
"We don't need to explain what we did or didn't do over the last 70 years... But in two and a half years, the BJP undid what we achieved in 70 years. They weakened all the constitutional institutions that we built over so many decades," he added.
The Congress convention Jan Vedana began from today in which screening of short films were scheduled on the Former Prime Minister Indira Gandhi and sufferings of people because of demonetisation.
--with agency inputs