Jammu witnesses season's coldest night, Kashmir shivers
Jammu and Kashmir, Tue, 10 Jan 2017
NI Wire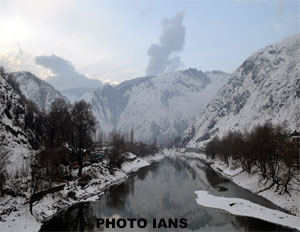 As the minimum temperature dipped down to 3.7 degrees celsius, the Jammu city witnessed the season's coldest night whereas the Kashmir valley and the Ladakh region got affected by an intense cold wave. Due to temperature falling and an intense cold wave which gripped the valley, the tourists and the residents got shivered.
According to a Met official, "the minimum temperature was 3.7 degrees Celsius in Jammu city, which is the lowest, recorded this season so far."
"At minus 13.9 degrees Celsius, Leh was the coldest town in Jammu and Kashmir, followed by Kargil at minus 12.4 degrees Celsius."
The Met official describing about the temperatures in Srinagar said that, "Srinagar recorded minus 2.8 degrees Celsius as the night's lowest temperature, while the mercury dipped to minus 6.2 degrees Celsius in Pahalgam and minus 12 degree Celsius in Gulmarg."
The official also described about the upcoming weather of state said, "Night temperatures across the state are likely to drop further till Wednesday as we are expecting the cold and dry weather to continue."
In state, the minimum temperature, according to the official was 5 degree Celsius in Katra, minus 2.4 degrees Celsius in Bannihal, 0.5 degrees Celsius in Batote and minus 1 degree Celsius in Bhaderwah town.
The tourists who went there to enjoy the snowfall were facing cold wave and after falling temperature in Valley, stranded in their hotels because of heavy snowfall.
--with agency inputs