J&K: One militant killed in gunfight, one soldier injured
Jammu and Kashmir, Tue, 10 Jan 2017
NI Wire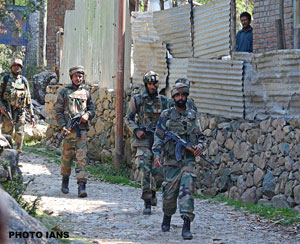 In a gunfight between the security forces and militants in Jammu and Kashmir, one militant was killed and an army soldier was injured. The increasing numbers of terrorist activities in Jammu and Kashmir were seen recently. The security forces got information about the terrorists and then they carried a search operation in Valley where a gunfight started with terrorists.
As per the officials said, one militant was killed and an army soldier was injured in a gunfight between militants and the security forces in Jammu and Kashmir. He said, "Security forces surrounded the Parray Mohalla in Hajin area of Kashmir's Bandipora district on this morning following information about militant presence in the village."
He also added, "When security forces were tightening the cordon, they were fired upon triggering the gunfight."
Describing about the operation he said, "One militant was killed and one army soldier injured in this encounter." According to him, "Firing exchanges have stopped, but a combing operation is on in the area."
Earlier, the security forces killed the top LeT commander in a gunfight which was also a big achievement for the forces as the commander was most wanted and the security forces were searching him from some time.
All these activities were seen increased after the surgical strike performed by the security forces. The surgical strike was done by the security forces as revenge, after the Uri attacks and the Pathankot air base attack.
India gave all the clues which connects terrorism connection from the neighbouring country Pakistan whereas Pakistan after seeing all the reports did not even felt guilt and said that these terrorists does not belongs to Pakistan.
--with agency inputs