Bahubali: Powerful movie displays might at box office
New Delhi, Sun, 12 Jul 2015
NI Wire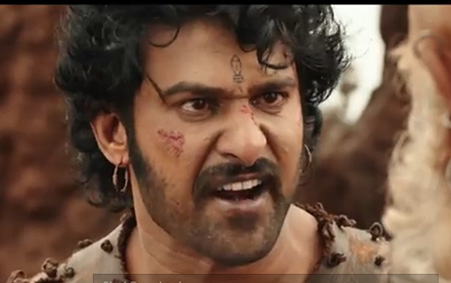 Keeping aside all the speculations and breaking the old records on box office, the new epic for movie named Bahubali has scripted history in terms of business and its making. This Rajamouli's folklore drama garnered the eyeballs nationwide with some mindboggling visual effects.
Experts have touted the movie as the India's biggest motion picture which has 150 crores riding on the film everyone is expecting nothing short of a classic out of it. Did Rajamouli deliver?
Story: Bahubali movie is all about Ballaladeva (Rana), a cruel king who is ruling the kingdom called Maahishmathi, where the people are tortured by his men. He takes Devasena (Anushka) as captive after killing her husband. Devasena lives with the hope that her son Shivudu (Prabhas) would return to put an end to the evil deeds of Ballaladeva.
Shiva (Prabhas), who is oblivious of his lineage (he was found as a baby at the foot of a waterfall by a tribe settled there). His childhood dream survives through to adulthood: attempting to trek to the peak of the waterfall cliff.
When he eventually manages this, he is exposed to Maheshmati, an empire torn by war, where an evil king, Bhallala Deva (Rana Dagubatti) reins over his oppressed subjects. Shiva also learns of a parallel army of revolutionaries who're plotting to rescue Devasena (Anushka Shetty), once the queen of Maheshmati, now a prisoner in Bhallala Deva's palace.
As far as the story is concerned, the first half invests way too much time in establishing character traits, and the love angle between Shiva and Avanthika (Tamannaah Bhatia) is flaky and serves as a distraction. However the second half explodes with multiple revelations and twists that lead to a war in all its cinematic glory.
Movie: Baahubali
Cast: Prabhas, Rana, Tamanna, Anushka, Satya Raj and others
Directed by: SS Rajamouli
Produced by: Prasad Devineni, Sobhu Yarlaga
Banner: Arka Media
Music by: MM Keeravani