Surajkund International Crafts Mela set to rock
Surajkund, Haryana, Fri, 31 Jan 2014
NI Wire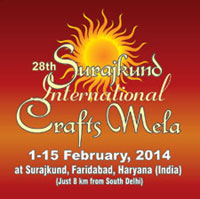 By Manish Kumar
Surajkund, Haryana: Addressing a galaxy of media persons at Chaupal, Surajkund Mela Ground, Faridabad, Parvez Dewan, Secretary, Tourism, Government of India and Chairman, Surajkund Mela Authority stated that the 28th Surajkund International Crafts Mela will be inaugurated by Bhupinder Singh Hooda, Chief Minister of Haryana on 1st February, 2014 in the august presence of Goa's Deputy Chief Minister Francis D'Souza, Minister of Tourism Dilip Parulekar, High Commissioner of Lanka to India Prasad Karlyawasam and Chairman, Haryana Tourism Corporation, Chakrvrty Sharma, and many other dignitaries.
The Surajkund Crafts Mela was hosted for the first time in 1987 to showcase richness and diversity of the handicrafts, handlooms and the cultural heritage of India. Jointly hosted by the Surajkund Mela Authority and Haryana Tourism in collaboration with the Union Ministries of Tourism, Textiles, Culture, External Affairs, Department of Tourism and Government of Haryana, this festival has come to occupy a place of pride and prominence on the international tourism calendar for its display of crafts, culture & cuisine of India in aesthetically created ambience.
Besides attracting lacs of domestic and foreign visitors each year, it has also helped in reviving the languishing arts and craft traditions of India. Last year, a new benchmark was set in the history of Surajkund Crafts Mela as it went global with 20 nations taking part in it. This year too, over 20 countries are expected to be a part of this Mela.
The countries that have confirmed their participation this time are Russia, Belarus, Kazakhstan, Uzbekistan, Kyrgyzstan, Tajikistan, Portugal, Iran, Uganda, Brazil, Ivory Coast, Thailand and the SAARC nations—Sri Lanka, Afghanistan, Bhutan, Nepal and Pakistan.
Goa, 'the Theme State' of this year's Crafts Mela, is showcasing its unique cultural and historical heritage in an impressive manner. Goa blessed with natural beauty, rich culture, music, cuisine, etc. has already made a place in visitor's hearts and now its cultural and art-related festivities come to the Surajkund Mela. Goa unfolds the state's rich cultural art scene at Surajkund Mela where artisans exhibit Goan handicrafts like pottery, crochet and décor items etc. This is for the second time after a gap of 12 years that Goa has become the Theme State of the Surajkund International Crafts Mela. Goa always has a reason to celebrate. The Goan folk dances, colourful floats and live processions will add to the charm of the Mela. The main attractions will be Shigmo Parade and Carnival Float Parade. Goan artistes will put up a vibrant show with folk dances namely Dhalo, Morulo, March de Fontainhas, Goph, Dasarawadan, Dhangar, Chowrang Talo,Mando, Zagor, Corridinho and Tarang-mel.