IPL 6: Gambhir and Co clashes with Kohli and Co in RCB vs KKR match
New Delhi, Thu, 11 Apr 2013
NI Wire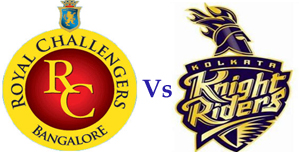 Two potential candidates of Indian captainship in future will collide with each other in today's match of Indian Premier League as Royal Challengers Bangalore will take on Kolkata Knight Riders at their home ground M Chinnaswamy Stadium, Bangalore from 4pm in the 13th match of IPL.
KKR started well in the IPL with a 6-wicket win over Delhi Daredevils but lost their 2nd match to Rajasthan Royals. McCullum has revived from his injury and will be available for this match. Their bowling has been good with Narine, Bhatia and Lee working together to restrict the opponents.
RCB batting line-up on the other hand has been formidable. One or the other batsmen among Gayle, AB de Villiers, Kohli and Henriques has clicked and if Dilshan starts firing too then their opponents will have a lot of trouble stopping them.
Royal Challengers Bangalore team:
V Kohli (Captain), MA Agarwal, KP Appanna, S Aravind, KB Arun Karthik, CD Barnwell, DT Christian, AB de Villiers, TM Dilshan, CH Gayle, MC Henriques, SP Jackson, M Kartik, Z Khan, AB McDonald, A Mithun, A Mukund, M Muralitharan, KK Nair, Pankaj Singh, P Parameswaran, HV Patel, CA Pujara, R Rampaul, S Sandeep Warrier, RP Singh, S Sohal, J Syed Mohammad, SS Tiwary, JD Unadkat, DL Vettori, R Vinay Kumar, VH Zol
Kolkata Knight Riders team:
G Gambhir (Captain), S Ladda, L Balaji, R Bhatia, MS Bisla, DB Das, BJ Haddin, Iqbal Abdulla, JH Kallis, B Lee, BB McCullum, R McLaren, EJG Morgan, SP Narine, YK Pathan, PJ Sangwan, SMSM Senanayake, Shami Ahmed, Shakib Al Hasan, LR Shukla, RN ten Doeschate, MK Tiwary