BJP to start big demonstration with RWA against electricity bill
New Delhi, Sun, 09 Sep 2012
NI Wire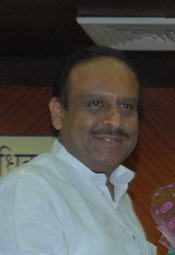 BJP has said that the current power bill, which charged at the rate of Rs. 2.90 per unit, are being charged at the rate of Rs. 4.80 and Rs. 6.40 per unit. This has happened because the DERC has fixed slab for power consumption and the power subsidy being given by Delhi Government at the rate of rupee one per unit. Due to this the amount being charged from the people have doubled. Their domestic budget has disturbed due to it.
Not BJP has decided to stage a strong demonstration with RWAs at the offices of all the three power companies of Delhi.This announcement was made by the BJP Delhi Pradesh President Vijender Gupta. He told that the If a bill being served to the common man of 600 units then Rs. 150 also recovered as fixed charges. In addition about 180 rupees is being recovered as electricity duty. Fuel surcharge is also added.
This way the power companies are recovering about 500 rupees extra which is injustice to the power consumers. Shri Gupta has demanded Delhi Government and DERC that they should abolish slab system for the common power bills and Delhi Government should be restore one rupee subsidy as earlier so that the people may not get the power shock.
He further told that 80% people in Delhi there family income of Rs. 10,000 per month. If they will spent Rs 4000 on power consumption then how will
main his family.
This anti people Government is taking such dangerous decisions that will lead to exodus of the people from Delhi. If the people leaving Delhi and will returning to their villages then the development of Delhi will stop. The industries shall also be closed into the absence of skilled workers. This will also affect the revenue and the exchequer will become empty.
LATEST IMAGES

MORE...
Social bookmark this page
Post comments: