Justice Katju defends sedition cartoonist; says 'has nothing done illegal'
Mumbai/New Delhi, Mon, 10 Sep 2012
NI Wire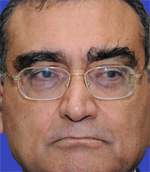 Defending Cartoonist Aseem Trivedi, who has been arrested on sedition charges for 'mocking the Constitution' and accused of uploading objectionable content on his website, the chairman of Press Council of India (PCI), Justice Markandey Katju, has defended him by stating that he has done nothing illegal.
Advocating to cartoonist, Katju said these are occupational hazards, and politicians must learn to put up with them.
In a statement, he maintained that arresting a cartoonist or any other person who has not committed a crime, is itself a crime under the Indian Penal Code (IPC), as it is a wrongful arrest and wrongful confinement.
Trivedi, 25, an activist of India Against Corruption, was picked up Saturday evening by Mumbai police from Bandra-Kurla following a non-bailable arrest warrant issued against him. He was presented before a city court in Mumbai, which sent him into police custody till September 16.
A lawyer in his private complaint accused him of mocking the Indian Constitution during an Anna Hazare rally in Mumbai, was charged with sedition under Section 124 A of the Indian Penal Code, which is a non-bailable offence.
He was also charged under the IT Act and the 1971 National Emblem Act as he was reportedly depicted Parliament as a commode and showed the national emblem with wolves instead of lions.
Moreover, there is also a charge of uploading "ugly and obscene" matter on his web portal.
The police claimed that Trivedi had earlier exhibited similar cartoons at a rally organised by India Against Corruption (IAC) at the MMRDA grounds in Mumbai in December 2011.
On the contrary, an IAC spokesperson claimed that police did not allow them to meet Trivedi when they went to meet him in the lock-up in the morning to discuss his defence procedures.
The IAC alleged Trivedi "was badly roughed up and pushed into the police vehicle where his head banged against the vehicle body".
"We are shocked at the way an artist and activist is being treated by police. The IAC Mumbai will always support freedom of expression which is the right of every individual given to us by the constitution," the IAC said.
--With Agencies Inputs--
LATEST IMAGES

MORE...
Social bookmark this page
Post comments: