Not against the cartoon but parameter should be followed: Ambika Soni
New Delhi, Mon, 10 Sep 2012
NI Wire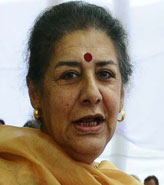 Information and Broadcasting Minister Ambika Soni has said that government is not against cartoon but there must be a parameter and it should be within the constitutional limit. She was commenting on the issue in which Mumbai Police has arrested Aseem Trivedi on charge of sedition by his controversial cartoon.
It is noted that after the arrest of Aseem Trivedi by Mumbai Police, there has been a furore erupted nationwide in which several persons have criticized the move saying that it is a step to banning the rights of expression.
On the issues, Information and Broadcasting Minister Ambika Soni said that government had no problems with cartoons but they should stay within constitutional parameters.
Cartoonist cannot make national symbols the object of their cartoon, she added.
It is noted that Trivedi is an activist of India Against Corruption (IAC) and was picked up by Mumbai police following a non-bailable arrest warrant issued against him.
He is accused of uploading "ugly and obscene" matter on his web portal and for putting up objectionable banners insulting the Indian constitution during Anna Hazare's anti-corruption agitation here last December.
IAC has demanded that Trivedi be "unconditionally released" and "the baseless charge of sedition be withdrawn instantly".
Meanwhile a Mumbai court had remanded Trivedi to seven days police custody.
(With inputs from IANS)
LATEST IMAGES

MORE...
Social bookmark this page
Post comments: