No need to loose hope for Delhi Metro Airport way: CM
New Delhi, Mon, 10 Sep 2012
NI Wire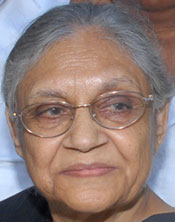 Sheila Dikshit has defended the public-private partnership model and quoted that it is not bad. She has not given up the hope for the city's Airport Metro project, which had been suspended since July 8 for structural faults.
Commenting on the issue, chief minister said that we should not jump to conclusions that the public-private partnership model is bad." We have such a model in our power projects and it is doing quite well, she added.
She said, "Presently both the parties including Reliance concessionaire and Delhi Metro are seeking alibis and I have spoken to the urban development ministry secretary. He had told me that the report should be with us in some time. Then we will see."
It is noted that services on the Rs.5, 700-crore ($11.5-billion) line, touted as an urban infrastructure showpiece, was stopped July 8 because of major structural defects. Reliance Infrastructure, which operated the line, said civil defects were noticed from day one of the service. Around 70 percent commuters, who make use of the line, were air passengers.
Even as the blame game continues between Delhi Metro and Reliance, none is certain when the line will restart. Launched mainly to ferry people to Terminal III of the Indira Gandhi International Airport, the 23-km line averaged a daily ridership of 20,000 commuters.
According to sources, "Keeping in mind the extensive repair work that is required, I think the repair work will take some more time to complete. I feel the service may be able to resume only after three months or so."
It is noted that there was a blame game between Delhi Metro and Reliance in the context of the expressway and both parties have been indulged in blaming to each other.
(With inputs from IANS)
LATEST IMAGES

MORE...
Social bookmark this page
Post comments: