Gangs Of Wasseypur 2 Movie Review
New Delhi, Wed, 08 Aug 2012
NI Wire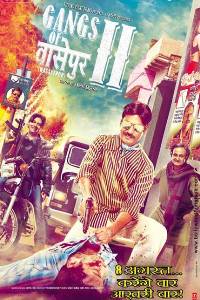 Star cast: Nawazuddin Siddiqui as Faizal Khan, Tigmanshu Dhulia as Ramadhir Singh, Huma Qureshi and Richa Chadda
Director: Anurag Kashyap
Producer: Anurag Kashyap, Sunil Bohra, Guneet Monga
Story Writer: Zeishan Quadri, Sachin Ladia, Anurag Kashyap
Music Director: Sneha Khanwalkar
Finally, the wait is over for the climax of the story of the bloody rivalry of Wasseypur. After gaining much critical acclamation for "Gangs Of Wasseypur", Anurag Kashyap released the much-awaited sequel of the movie Gangs Of Wasseypur 2 on August 8 to end the curiosity of the untold story.
With the release of Gangs Of Wasseypur 2, director Anurag Kashyap has taken the brutality to the next level creating a bloody magic on the screen.
With Gangs Of Wasseypur, ended with the death of Sardar Khan, Gangs Of Wasseypur2 continues with his sons taking revenge for their father's brutal death. Faizal Khan, son of Sultan khan (played by Nawazuddin Siddiqui) is deeply engaged in smoking ganja, while his elder son Danish (Vineet Singh) rages for revenge of his father's death but was gun down by Ramadhir Singh (Tigmanshu Dhulia) and Sultan (Pankaj Tripathi). This is the time when Faizal takes the charge of the revenge in his hand and shows the audiences with the real blood bath on the screen till the climax of the movie.
The movie shows a modern Wasseypur this time with gangsters, now armed with mobile phones and automatic rifles, gun making the rivalry more fearsome, merciless, debauched and bloody.
As far as performances are concerned, all the characters in the movie has once again justified with their characters extremely well which gives a feeling of reality to the story on screen. Nawazuddin Siddiqui has done excellent job as Faizal Khan. Huma looks really pretty as Mohsina.
Though, Gangs of Wasseypur 2 is an intense drama, but you are really going to enjoy enjoy some good piece of comedy in some instances especially with interesting characters like Definite, Perpendicular and Tangent. The hilarious conversation between the characters will definitely make you laugh.
Sneha Khanwalkar's has once again succeeded to justify the music with the sequels of the film.
So, overall Gangs of Wasseypur 2 is must watch for its top-notch performances and to end the curiosity that was left in Gangs of Wasseypur.
LATEST IMAGES

MORE...
Social bookmark this page
Post comments: