Thackeray confident to NDA at center, slams Advani for his demorlising remarks
Mumbai, Tue, 07 Aug 2012
NI Wire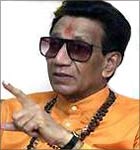 LK Advani for his remarks like the next PM will not be from NDA. He has said that it is likely to conceding defeat without even entering the boxing ring.
In the party mouthpiece Saamna, Thackeray has said commented on Advani latest blog in which he had predicted that the next PM will not be from Congress and BJP. The remarks have created a fuel from the BJP and other parties.
Thakerey said that his suggestion is like a general saying before a war that there is no guarantee on the outcome and demoralizing the entire army. He writes that if Advani has any doubts, he should come to Matoshri, Thackeray's residence in Mumbai and he will give him a dose of morale and strength.
The Shiv Sena chief was confident that the NDA would emerge as the single largest group and would attract the support of other parties like the Nationalist Congress Party, Trinamool Congress, Navin Patnaik and DMK to grab power at the centre.
He writes that the this type of speculations may have arisen on account of two contenders for the prime minister's post within the NDA - Bihar Chief Minister Nitish Kumar and Gujarat Chief Minister Narendra Modi.
"Even Advani himself has been a prime ministerial contender over the years and if there is consensus, his wish can also be fulfilled,"Thackeray said.
He also said that by his statements, Advani would add fuel to the fire of ambitions in Nitish Kumar and Narendra Modi for the prime minister's post.
Thackeray has urged Advani to help bury the Congress instead of playing politics through blogs and sending a wrong message down the ranks.
(With Inputs from IANS)
LATEST IMAGES

MORE...
Social bookmark this page
Post comments: