Winscosin Gurdwara Shooting: Man with 9/11 tattoos kills six in open firing
Washington, Mon, 06 Aug 2012
NI Wire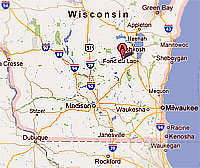 In a shocking incident in Winscosin, United States a gunman killed six people and critically wounded three at a gurdwara during Sunday services before police shot him dead.
According to sources, as per eyewitnesses a man tattooed with 9/11 attacked on the pilgrims who visit to Gurdwara on August 05 for Sunday serving. The gunman opened fire when he entered the kitchen at the gurdwara of Wisconsin in suburban Milwaukee at about 10.30 am local time (3.30 GMT) as women prepared a Sunday meal, sending worshippers fleeing to escape the barrage.
The suspect was a bald, white man, approximately 40 years old, said Thomas Ahern, a spokesman of US Inteligence Agency said. However, authorities did not release his identity.
According to reports, four people were shot dead inside the sprawling temple. Three, including the gunman, were killed outside.
The Federal Bureau of Investigation is probing the case and authorities are treating this as a domestic terrorist incident.
Sunday's attack came just over two weeks after a gunman opened fire at a theater in Aurora, Colorado, killing 12 people and wounding 58.
India has expressed pain and asked US to protect minorities in the United States.
US President Barack Obama has expressed his grief and condolence over the dead victim and pledged his administration's commitment to fully investigate the shooting.
--With Agencies Inputs--
LATEST IMAGES

MORE...
Social bookmark this page
Post comments: