Chidambaram meets RBI Governor to discuss on polishing economic policy
New Delhi, Mon, 06 Aug 2012
NI Wire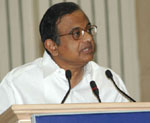 In a bid to revitalize the glooming economic policy, Finance Minister P Chidambaram Monday met to Reserve Bank of India Governor D Subbarao.
It was the first meeting between duos after Chidambaram reinstated on Finance Ministry portfolio. They discussed there on plenty of issues including tuning up the economic policies that can meet the investor and other stakeholders' expectations.
"Our policies have to be modified or fine-tuned in order to meet the expectations of different stakeholders," Chidambaram said at a media briefing on the sideline of the meeting.
'I am confident that India will get back to a path of high economic growth,' he said while depicting a positive picture of India's growth rate and economy.
"I am confident that we will prevail and we will return to the path of high growth," Chidambaram said.
'Country had faced similar economic problems in 1991, 1997 and 2008, and overcame them successfully,' FM argued.
"It is widely acknowledged that today the Indian economy is stronger and better prepared to face the challenges. Moderate growth in two out of eight years should not dent our confidence," said Chidambaram.
Indicating to boost the mutual fund industry and insurance sector Finance Minister said that government would make announcement in this regard in few weeks.
"Both the mutual funds industry and insurance sectors have turned sluggish. In the next few weeks, we will announce a number of decision to attract more people to invest in mutual funds, insurance policies and other well-designed instruments."
He said the government would also work towards removing supply side bottlenecks in the manufacturing and export sector.
"Manufacturing and exports are two key drivers of the economy. Both have registered low or negative growth in recent months. It is imperative that we reverse this trend.
"Supply side constraints on the side of manufacturing and exports must be removed in double quick time. We intend to work with manufacturers and exporters to implement short and medium term measures," Chidambaram said.
The finance minister said that the implementation of large infrastructure and other projects with an investment of Rs.1,000 crore or more will be monitored closely under by the cabinet committee of economic affairs (CCEA). He also reshuffled his ministry's face by swapping the secretaries under his ministry. He interchanged the portfolios of Revenue Secretary R S Gujral and Expenditure Secretary Sumit Bose.
Gujral will be the new expenditure secretary while Bose will become the revenue secretary. Gujral, being the most senior among the five secretaries in the ministry, will remain the finance secretary. Both are expected to take charge of their new departments on Monday.
--With Agencies Inputs--
LATEST IMAGES

MORE...
Social bookmark this page
Post comments: