Indian Pugilist Manoj Kumar cries cheating after controversial exit from London Olympics
London, Sun, 05 Aug 2012
NI Wire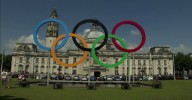 Yet another incident of alleged 'Cheating' held in light welterweight category of boxing held on Saturday night in which Indian Boxer Manoj Kumar was declared looser against his British rival Tom Stalker who knocked out him in a pre-quarterfinal match by 20-16. Manoj called the referee and judge 'cheater' 'cheater' and 'cheater'.
According to Manoj, "This is a district tournament, it's not an Olympic tournament. Cheating, cheating, cheating."
Indian coach Blas Iglesias Fernandez said Manoj won the third round but he should have won the other two rounds as well as he fought in the same manner.
"The last round was 7-4 (to Kumar). Why no other rounds? All rounds were the same. It was very poor judging," he said.
Indian boxer Manoj Kumar was knocked out of the 2012 London Olympics after he lost his 64kg pre-quarterfinal bout to Great Britain's Tom Stalker at the Excel Arena here Saturday.
The 25-year-old Indian, a Commonwealth Games gold medallist (light welterweight), went down 20-16 in a bout that was dominated by the local hero, who had received a first round bye.
Stalker, also a Commonwealth Games gold medallist (light weight), was in his primeform right from the start, and opened up a huge lead in the first round winning it 7-4. Manoj struggled and adopted a defensive strategy.
The second round also continued in the same fashion as Stalker's flurry of punches rattled the Indian. Stalker increased his lead winning the second round 9-4.
Going into the third round, the Indian was trailing 9-16. Manoj went all out in the decider and showed great courage. But Stalker knowing that he enjoys a huge lead played it safe, dancing around the ring and hardly let his guard down.
But Manoj was in no mood to give in and landed a few strong blows that help him win the third round 7-4 but it came too late.
Manoj was nowhere near his performance in the first round, when he was in complete control against Serdar Hudayberdiyev of Turkmenistan. Manoj had won the bout 13-7.
Manoj is the fifth boxer after Shiva Thapa, Jai Bhagwan, Vikas Krishan and Sumit Sangwan to crash out of the Games.
Earlier the result of another welterweight boxing match was reversed in which Vikash Krishnan had defeated his American rival by 13-11, later it was turned to 13-15. The International Boxing Federation too had rejected the Manoj's and Indian Olympic Committee's complaint, which knocked out Vikash from London Olympics 2012.
Devendro Singh and Vijender Singh are in the quarterfinals and just a bout away from ensuring an Olympic medal for India.
--With Agencies Inputs--
LATEST IMAGES

MORE...
Social bookmark this page
Post comments: