Pak looking forward to talks with India to resolve all issues: Hina Rabbani Khar
Tehran, Thu, 30 Aug 2012
NI Wire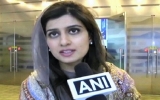 Stressing on the need to solve disputes between India and Pakistan in more mature way, Pakistan Foreign Minister Hina Rabbani Khjar Wednesday in Tehran said that both India and Pakistan need to tackle their disputes and other issues in a more mature manner, so that they don't continue to haunt the two countries and their respective governments.
Hina who is at present in Tehran, Iran with Pakistani President Asif Ali Zardari and other top level delegates to attend 26th Non-Aligned Movement (NAM) summit, Wednesday said on the sideline of the summit that Pakistan is looking forward to resolve important issues in the upcoming talks between President Asif Zardari and Indian Prime Minister Dr Manmohan Singh scheduled on the sidelines of the NAM summit.
"We are moving out of trust deficit zone, and that is a pre-requisite for us to be able to really sit on the negotiating table and solve most important issues," the Daily Times quoted Khar, as saying.
Zardari is expected to meet Singh on Thursday, which will be their second meeting in four months.
Khar said the environment for Pakistan and India was now moving towards trust building.
"All previous talks between the two leaders have been very useful particularly in New Delhi and we hope the same spirit would continue in Tehran. As far as Pakistan is concerned, it is committed to moving forward beyond any other issues that might arise between the two countries," she said.
Responding to a question on the recent flood of SMSs that had created panic and pandemonium among people from the northeastern part of India, and to the Indian Government's reaction that some of these messages had their origins in Pakistan, Khar said: "I think simply that we need to really find a more mature way to be able to be handle all of these issues because they will continue to haunt us."
"So, I am, in my position, very disappointed every time something reaches Pakistan through the media, because we believe that we have been able to invest in this relationship enough to expect a call from any counterpart if any such concern, suspicion arises. Because, we have to move beyond this. You know, really, giving more fuel to a hostility type of a narrative in each other's media, I think, your media, really needs to become more positive," she added.
When asked whether Pakistan would now move against the perpetrators of 26/11 in the wake of the Supreme Court of India confirming the death sentence on lone surviving terrorist Ajmal Amir Kasab, and whether the much promoted 'Aman ki Asha' would actually have meaning, Khar said, "Recently, the Pakistani High Commissioner in India (Salman Bashir) had given a very good interview, in which he has said repeatedly and clearly articulated what the requirements are to move forward in that. So, we cannot have a response to that and allow for instance people from Pakistan any access and still expect to forward."
"If both sides are committed to move forward, I think, we should show our commitment, and I can assure you, that the Pakistani side is committed to moving forward beyond this, and on any other issue that arises between the two countries," she added.
--With ANI Inputs--
LATEST IMAGES

MORE...
Social bookmark this page
Post comments: