Economic growth has lost pace, but soon be on track:Chidambaram
New Delhi, Sun, 19 Aug 2012
NI Wire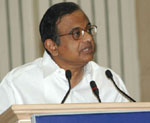 Finance Minister P. Chidambaram has assured that economic growth in India will be back on track after the revival of investments in various sectors. He has claimed that once we get the investment cycle going and investment engine started, most of our problems will be overcome instantly. He has advised banks to start cash deposit facilities in automated teller machines (ATMs) and increase doorstep-banking services, which would mobilize savings.
Chidambaram was speaking to reporters after meeting the chiefs of nationalized banks in capital.
On the occasion, Chidambaram reviewed the performance of the public sector banks in light of the economic slowdown and discussed methods that need to be taken to upgrade banking services.
FM said,"The aim is to quicken investment, industries and business houses which have business plans must bring forward their investment plans rather than defer it by six months or a year. Once we get the investment cycle going, once we get the investment engine started I think many of our problems can be resolved."
Highlighting his agenda in coming days, Chidambaram said, "We had a very substantial agenda, matters including agricultural credit, lending to minorities, education loans, financial inclusion plans and then of course the state of health of the banking sector in terms of mobilization, resources, extension of credit, return on assets, profit after tax and also about greater use of technology to quicken the services of banks and make it more efficient. I have reviewed this after about four years. I am very happy that the health of the banking sector is extremely good."
He reiterated that Indian banking system is sound and there had been a minor increase in non-performing assets (NPAs), which was not upsetting.
Chidambaram stressed that global headwinds, sluggish policymaking and more lately worries about a drought in parts of the country are the main factors for slow momentum of India's economic growth.
(With inputs from ANI)
LATEST IMAGES

MORE...
Social bookmark this page
Post comments: