Two strong earthquakes in Iran kill 250; 2000 injured
Tehran, Sun, 12 Aug 2012
NI Wire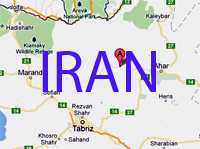 Two strong earthquakes on Saturday/Sunday night with magnitudes of 6.2 and 6.5 respectively jolted the north-western region of Iran, killing approximately 250 people while around 2,000 have been reported injured.
The quacks struck within 11 minutes of each other jolting northwestern Iran around 4:30 a.m..
According to US Geological Department, the epicentre of the quake was located in Varzaghan region near Ahar city at a distance of 60 km northeast of the city of Tabriz and 49 km northeast of the city of Tabriz respectively.
According to news agencies report, the local disaster mitigation has informed that at least 220 people have been died and over 2,000 were injured. The rescuers were facing problem to search the injured or dead body due to darkness in the night.
The injured were being admitted to hospitals in Tabriz and Ardebil, head of Iran's emergency organization Gholamreza Ma'soumi said.
According to a local TV report, tremors hit the towns of Ahar, Haris and Varzaqan of the northwestern Iran.
In Tabriz city, where the quake was felt strongly, people rushed out of their houses in panic.
Phone networks were disrupted in the region.
The governor warned people to sleep outdoors because of continuing aftershocks.
Iran is located on seismic fault lines and is prone to earthquakes. It experiences at least one earthquake every day on average, although the vast majority are so small they go unnoticed.
--With Agencies Inputs--
LATEST IMAGES

MORE...
Social bookmark this page
Post comments:

kafantaris
August 12, 2012 at 7:40 PM