V.K.Singh joins hands with Ramdev, criticize government
New Delhi, Sun, 12 Aug 2012
NI Wire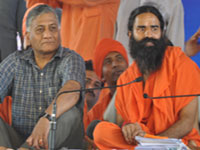 Now former Army chief General V.K.Singh has joined his hands with Yoga Guru Baba Ramdev in his agitation against black money and corruption. Sharing the dais with Baba Ramdev at Ramlila Ground, V.K. Singh has said that the prevailing situation in the country is like the 1975 and corruption is today a burning issue.
General V.K.Singh who had fought with government on the issued of age to his retirement, is an eminent personality and has joined Baba Ramdev for his fight against corruption.
Addressing to people at Ramlila Ground, V. K. Singh compared the country's todays situations with the 1975 and said that corruption has become a big problem for country.
He said that in 1975, when Jai Prakash Narayan has lead the agitation and said that "Singhasan Khali karo ki Janata Aati hai", the present situation is same as the corruption is the root cause of all the problems prevailing in the country.
He criticizes government for not following the Directive Principles of State Police as written in the constitution of India.
Arising the plight of farmers, Singh said that government is taking land from the farmers on the name of development as it has been working as a property dealer.
It is a big boost for Baba Ramdev who has earlier given a ultimatum to Prime Minister Manmohan Singh to pay heed on all his demand till Sunday evening or be ready to face a big revolution across the country for his demands. He has said that after the end of three days symbolic fast, now it is for Prime Minister who should shown his political honesty and considers to his demands otherwise ready for a nationwide revolution.
Ramdev has also criticized Congress blaming that it has been using prime minister as a shield to hide its deeds.
(With input from agencies)
LATEST IMAGES

MORE...
Social bookmark this page
Post comments: