Legislator objects to Goa depiction in KSKHH
Panaji, Wed, 01 Aug 2012
NI Wire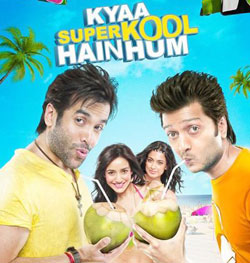 Before its release, Ekta Kapoor produced film Kya Super Kool Hain Hum was indulged into controversy for its vulgar comedy and multilingual dialogues and after its release it is going to face another obstacle as a Goan legislator has objected to allegedly depict the wrong picture of Goa and the Christianity in the movie.
A Congress legislator from Cortalim, Goa Reginaldo Lourenco has raised eyebrow over allegedly wrong depiction of the state and Christian priests in the film Kya Super Kool Hain Hum (KSKHH), which was released last week.
Lourenco told the legislative assembly Wednesday that the character of the priest, played by actor Chunky Pandey, was disrespectful to Christianity and projected Goa in a wrong manner.
"Please take up the matter with the censor board. The film is showing Goa and Christian priests in a bad light. This should not be allowed," Lourenco said.
Responding to the request, Chief Minister Manohar Parrikar said the Central Board of Film Certification, commonly known as censor board, was under the purview of the central government.
"This is not under the jurisdiction of the state government because censor board jurisdiction lies with the central government. The censor board should check that no religious group should be offended in the film. If you give me a complaint in writing, I will take it up with the censor board," Parrikar said.
"Kya Super Kool Hain Hum" is a sequel to the 2005 film "Kya Kool Hain Hum" and stars Tusshar Kapoor and Riteish Deshmukh.
--With IANS Inputs--
LATEST IMAGES

MORE...
Social bookmark this page
Post comments: