Government is ruling like a dictatorship:Vijender Gupta
New Delhi, Sun, 08 Jul 2012
NI Wire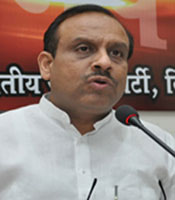 Delhi State BJP President Vijender Gupta has alleged that Delhi Government intentionally wants to spoil the environment of the capital. In Delhi now the prices of CNG has increased upto Rs. 38.35 per kg, which is equivalent with the price of Diesel. He said that BJP Delhi Pradesh will stage Demonstration against CNG price hike by Rs. 2.90 to lodge strong protest on 10th July on 14 prominent CNG filling stations in Delhi.
Gupta said that Delhi Government is planning to increase the fare of DTC Buses in Delhi. Moreover Delhi Metro has already declared that soon Metro fare will be increased in Delhi. He said in these circumstances if the Government will increase the fare of public transport then it is a matter of great worry for those persons who are earning only Rs. 200 to 300 per day, how they will feed their family in Delhi.
The negative aspect of this decision is that due to less availability of CNG fuel and easy availability of Diesel on all the petrol pumps in Delhi, people will be inclined to purchase Diesel Vehicle which will again make the level of air pollution as past before the introduction of CNG fuel in Delhi. He further said the present Government is ruling in the way of dictatorship and in anti people manner.
By doing such decisions it appears that Delhi Government is adamant to through away poor people out of Delhi but BJP is also adamant that such anti poor people of Congress party will never be fulfilled in Delhi.
LATEST IMAGES

MORE...
Social bookmark this page
Post comments: