14th Bride and Groom Exhibition brings lot new for brides and grooms
New Delhi, Sun, 08 Jul 2012
NI Wire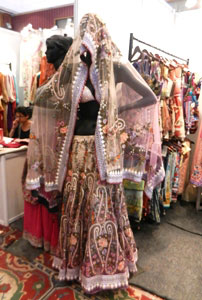 The 14th Bride and Groom Exhibition kick started in Delhi on 7th July and will continue up to 9th July that will enable the brides and grooms get through the latest trends of fashion for them. The exhibition displays the creations of various renowned designers from every part of the country at a single platform attracting a large number of visitors every year.
This year, a total number of 120 designers participated in the show that includes some big names like Rajdeep Ranawat, Gaurav Chhabra, Neha Gupta, Jattinn Kochhar, Sonia Jetley, Abdul halder, Pria Kataria, Nikhita tendon, Shaina NC, Vidya and many more.
"Wedding is always the most special occasion for every bride and groom to be cherished lifetime. We are here just helping them with that. We have a complete range of bridal dresses that are compatible enough to invigorate the beauty of the bride on the most special day of her life. We ensure a perfect combination of culture, color, embroideries with a feel of the Orient and charm of Vintage that ooze elegance and create stance for all", said Rajdeep Ranawat, a leading designer.
"Sherwani has a long history as a traditional wearing for India on wedding and still toady the grooms prefers wearing Sherwani on their wedding day to add a feel of royalness to their look on their day. However, the most preferred dresses for functions like Engagement and Sangeet are Jodhpuri, Kurta Pajama and Pathani these days" said Gaurav Chhabra, a designer participant.
Designer Neha Gupta showcased some beautiful and attractive bridal collections including comfortable and beautifully designed suits for all seasons.
Shimmer Gems Pvt Ltd. displayed a range of antique and attractive jewelry collection that attracted large number jewelry lovers to their stall.
"The current trend of jewelry has been dominated by 'Kundan and Diamond Jewelry'. Though the demand of traditional gold jewelry has reduced a bit but people really like jewelries of different varieties made of gold as gold is the all-time favorite", said Mr. Amit Jain, Director, Shimmers Gems.
Raj Studio, a participant in the exhibiton came up with an eye catching style of 3d photography for wedding ceremonies.
"Wedding is the most memorable day of everyone's life and we help to capture these memories in the best way so that the brides and grooms can rejuvenate with the feeling of their special day whenever they see these photographs", said Gaurav Rai, Raj Studio.
The first Bride and Groom Exhibition was organized in 1999 as an initiative of ITE Group with an objective to provide all wedding solutions for the brides and grooms which became a huge success and has been organized in 6 states of India and 4 countries since then. This year an NGO called Amanat is also participating in the event for promoting weavers and artisans and displayed various weaves and crafts from every part of the country.
LATEST IMAGES

MORE...
Social bookmark this page
Post comments: