Virender Shewag: Dhoni's leadership and an able team won us the World Cup
New Delhi, Fri, 06 Jul 2012
NI Wire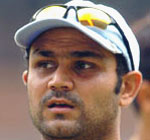 What Sehwag really said was "Dhoni got a very strong team. When you get a strong team, it is easier to perform well just like Australia did at one point of time. We won World Cup because we had a very strong team which was ably backed by Dhoni's leadership."
He relpied to a question of a journalist who asked what has been Dhoni's strength that has enabled him to lead India to two World Cup victories (Twenty20 and ODI).
He was speaking at the inauguration of Saba Karim-Genesis Pro-Cricket Centre.
"Not only me but the whole country misses Sachin when he is not in action. But one should realise that he is 39 years and he should be allowed to pick and choose which series he wants to go. He will certainly be available for the Test series against New Zealand," he added.
Sachin Tendulkar will not be part of Indian team playing in Sri Lanka.
Sehwag further added that he is completely fit and is ready to take on Srilanka in the tour starting on July 21.
Sehwag said, "I played almost all the matches in Indian Premier League and there is no fitness issue now. The ODI tour of Sri Lanka will also help me in preparing for the Twenty20 World Cup to be held there".
LATEST IMAGES

MORE...
Social bookmark this page
Post comments: