'Gangs Of Wasseypur - Part 2' to release on Aug 8
New Delhi, Thu, 05 Jul 2012
NI Wire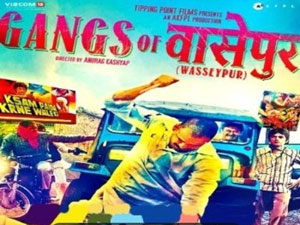 After the critical success of 'Gangs Of Wasseypur', the sequel of the movie 'Gangs Of Wasseypur - Part 2' is all set to be released on August 8 next Wednesday. The audiences keen to know the final result of the uncompleted story in the first part of the movie will now do not have to wait much to end their curiosity.
"For all those asking and also those not asking but are eager to know #GOW2 will release on 8th August," tweeted Kashyap.
"Sunn toh liya hai aapne ab apni aankhon se dekh bhi lo (You've heard it, now see it too)," he added with a mini-poster that reads "'Gangs Of Wasseypur' releasing 8th August, 2012".
'Gangs Of Wasseypur - Part 2' is a sequel of "Gangs of Wasseypur", that was released on June 22 this month and got high critical acclaim and was a huge success in the box office.
Earlier, the release date of the second part was a mystery.
However, both the parts of the movie had already been showcased at the 65th Cannes International Film Festival, and were applauded by international film enthusiasts.
The first part screened the story of Sardar Khan and Ramadir Singh, which was based on the real life story of Shafi Khan and Surya Dev Singh, both of whom were involved in black business and are no longer alive.
Moreover, part two of the movie will take the story forward and will be based on the story of Sardar Khan's son Faisal Khan, who is Faheem Khan in real life. Faheem Khan is alive and in the Dhanbad jail currently.
According to insiders, before releasing the movie in theatres, the makers of the film wanted to sort out all possible issues that could be a hindrance to its release.
-With inputs from IANS
LATEST IMAGES

MORE...
Social bookmark this page
Post comments: