Exciting races mark end of Round 2 of 15th JK Tyre-FMSCI National Racing Championship
New Delhi, Mon, 30 Jul 2012
NI Wire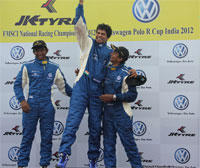 The last day of Round 2 of the 15th JK Tyre-FMSCI National Racing Championship was a feast for motorsport lovers at the Kari Motor Speedway in Coimbatore as the crowd here witnessed the five exciting races ? two in the Polo class and one each in the LGB Formula 4, Indian Touring, and Indian Junior Touring classes.
Mumbai?s Ameya Walavalkar and Goa's Donovan Vaz grabbed the first and second positions of the JK Tyre Volkswagen Polo Cup. Coimbatore?s V.Rajvirdhan won the second race of the Indian Touring Cars event today. But it was Fahad Kutty?s day that scored a double and won the title in the second race of the Indian Junior Touring Cars class today.
In Race 2 of the LGB Formula 4 class, Karnataka?s Sudarshan Rao grabbed attention with his nail biting finish. Sudarshan Rao took 15:32.326 seconds to finish the race, while Vishnu Prasad, finished second with a timing of 15:38.815 seconds. Delhi?s Sarosh Hataria finished third (15:39.668 seconds).
Vishnu Prasad started swiftly but had to remain content with third position following some mechanical snags.
There were two races in the JK Tyre Volkswagen Polo R Cup, the first race was run in two parts for a total of eight laps following three racing incidents participated by Alisha Abdullah - the only lady driver, Ajay Kini of Hyderabad and Prashanth Tharani Singh.
The first race was won by Mumbai?s Pole starter Ameya Walavalkar. The second position was grabbed by Rahil Noorani. Mihir Dhakar and JK Tyre driver Diego Duez achieved third and fourth slots respectively.
In the second race first and second positions were grabbed by Donovan Vaz and A. Sandeep Kumar of Chennai respectively. Walavalkar finished third in the second race.
In the Indian Touring Cars class, the second race was won by V. Rajvirdhan. Radha Selvarajan achieved second position.
LATEST IMAGES

MORE...
Social bookmark this page
Post comments: