Anna claims, country has no future in hands of Congress and BJP
New Delhi, Sat, 28 Jul 2012
NI Wire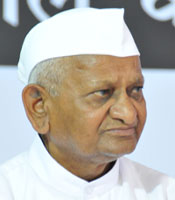 Paying no heed to the least number of presences of his supporters at the fourth day of the fast, social activist Anna Hazare has blamed Congress and BJP and said that there is no fate of country lies in the hands of both the parties. He reiterated about his fast in support of his aide.
Commenting on the formation of political party in the coming election, Anna said that he is not going to form a political party but will tour the country and urge people to choose honest candidates and vote them.
He said that people and team will decide for a right candidate for election and he will campaign for the candidate in the election.
There is a need for good and suitable candidate in Parliament as the fate of country is not safe in the hands of Congress and BJP, he added.
Ignoring the number of crowd at the fast, Anna has said that the size of crowd is not a matter and the movement is going on in 550 districts of the country. So it has nothing to do with the crowd is huge or less.
" I will be happy if even five people turn up. Crowds alone do not make a movement." he added.
He has reiterated that will join his close aides at Jantar-Mantar and begin his fast from tomorrow at any cost.
(With inputs from Agencies)
LATEST IMAGES

MORE...
Social bookmark this page
Post comments: