Anna says, crowds alone do not make a movement
New Delhi, Sat, 28 Jul 2012
NI Wire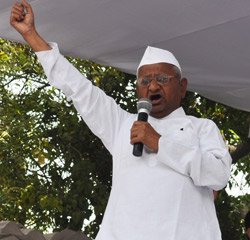 Ignoring the facts that there is a lukewarm response from the people of his movement, social activist Anna Hazare has reiterated that the size of the crowd is not a matter and it do not worry to him. He said that he is all set to join the fast to his aide from tomorrow.
As Team Anna's fast has been entered into its 4th days at Jantar-Mantar and still there is a thin crowd of people present at the venue. Thin presence of people at the venue has become an ordeal for team Anna as their earlier fast attracted huge gatherings and it was the success for his movement.
There is another change for the fast this time as the youth, which was the main force for the team Anna seen abstaining from the agitation.
Ignoring the number of crowd at the fast, Anna has said that the size of crowd is not a matter and the movement is going on in 550 districts of the country. So it has nothing to do with the crowd is huge or less.
" I will be happy if even five people turn up. Crowds alone do not make a movement," he added.
He reiterated that would join his close aides at Jantar-Mantar and begin his fast from tomorrow.
Once again Hazare hit out at the government, accusing the government of repeatedly going back on its promises. "The aim is to campaign for a Lokpal Bill. The government is only giving us assurances, but takes no action," he had said.
(With inputs from ANI)
LATEST IMAGES

MORE...
Social bookmark this page
Post comments: