Second round of 9th JK Tyre Rotax Max National Karting Championship flagged off in Hyderabad
New Delhi, Mon, 23 Jul 2012
NI Wire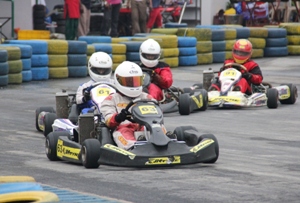 Second round of the 9th JK Tyre Rotax Max National Karting Championship kicked off in Hydrabad on Saturday, July 21 at the Kart Center, Lahari Resort. The championship started in a pleasant with low temperature and a little wet track that made the contestants a little cautious. But the race geared up as soon as the track dried out and the teams came out in full force.
Defending champion Chittesh Mandody (Team Mohites Racing) in his first appearance had shown his intentions by turning the tables completely in the Senior Max category by bettering his opponents in all three ? Qualifying, Heat 1 and Heat 2. Close to him was Amey Bafna (Team Rayo Racing) who was beaten by Chiteesh by 0.225 seconds in Heat 2. Ahead of the competition predicted that, leader from Round 1 and star performer of Round 1, Raj Ganatra (Team Rayo Racing) is going to get a stiff challenge in the form of Chiteesh and Amey.
The Junior Max class shown some good competition between Round 1 leader Krishnaraj Mahadik (Team Meco Racing), Dhruv Mohite (Team Mohites Racing) and Kush Maini (Team Maini Racing). While Kush topped in the Qualifying (33.234 seconds) and Heat 1, he had bad experience of Heat 2 where he finished seventh. On the other hand Dhruv continued a consistent performance and ended the day by finishing first in Heat 2 beating the number two by over 10 seconds. Round 1 winner Krishnaraj was a bit unlucky through the day finishing second in both Heat 1 and Heat 2 despite clocking the best lap of Heat 2 at 32.877 seconds.
In the Micro Max category the race to win continued between Round 1 leader Pradyum Danigod (Team Mohites Racing) and number two Mira Erda (Team Maini Racing). While Pradyumn topped Mira in both Qualifying and Heat 1, the time difference between the two was just half a second, while Mira clocked the fastest lap at 36.583 seconds. In Heat 2 Mira started on the throttle right from the initial start and eventually over the 10 laps defeated the number two by over 5 seconds.
The performance of the day was no doubt the amazing performance by Chiteesh who stole the limelight out of his competition by putting in a stellar performance to top all the three outings of the day.
At the end of Round 1 held on June 9 and 10, 2012, Raj Ganatra (Team Rayo Racing), Krishnaraj Mahadik (Team Mohites Racing) and Pradyumn V Danigond (Team Mohites Racing) led in the Senior, Junior and Micro Max categories respectively.
LATEST IMAGES

MORE...
Social bookmark this page
Post comments: