Now LED bulb to conserve energy and restrict billing for Delhiites
New Delhi, Sat, 21 Jul 2012
NI Wire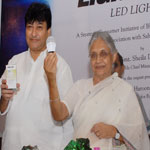 For huge power saving, Delhi government is going to shift from ordinary and CFL lighting to LED lighting in its entire stretch of street lighting in the Capital City apart from making use of LED lighting in its offices. Chief Minister Sheila Dikshit has launched the new LED bulbs saying that the use of LED bulbs is safe and cheaper apart from these being longer lasting than ordinary and CFL bulbs.
On the occasion chief minister announced that the demand of power is going up day by day. It used to be 2000 MW in 2000, which has risen to around 5600 MW today. In order to conserve energy and restrict billing on electricity, it looks advisable to go for LED bulbs. She announced that her government would like to promote LED bulbs by granting some concession in VAT.
Dikshit said, "It is good to see BRPL actively participating in Delhi government?s mission to conserve electricity. I appeal to all the Bhagidari partners and citizens of Delhi to take lead in conserving electricity ? the need of the hour. LEDs are the future of lighting, as unlike CFLs, they contain zero mercury and arsenic and save around 50% more electricity than even CFL's. Such initiatives go a long way in conserving energy."
On the occasion, power minister Harun Yusuf said that this as a good step in the direction of conservation. The LEDs will go a long way in saving power consumption by 70%. The LEDs would also provide relief to the costumers. This initiative towards energy conservation, gives Delhiites an opportunity to buy high-quality LED bulbs at never-before prices.
LATEST IMAGES

MORE...
Social bookmark this page
Post comments: