Intellectuals express concerns over " Guwahati Molestation case"
New Delhi, Fri, 20 Jul 2012
NI Wire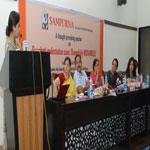 A seminar was organized by "Sampurna" on " Guwahati Molestation case"at Constitution Club, Dy. Speaker Hall, Raffi Marg. Panel consisted of intelligentsia of highest order, socialites, politicians and government officers i.e. Poornima Advani, Amod Kanth, Dr. Ranjana Kumari, Dr. Shobha Vijender, Meenakshi Lekhi and Pinki Anand.
Seminar was inaugurated by Ms. Poornima Advani, Former chairperson NCW. She condemned the Guwahati Molestation as uncivilized, inhuman, brutal and bestial act and reiterated that"Victim being 17 years old is a juvenile and case was supposed to be handled by NCPCR. NCW, a statutory body handling the case provide a voice to the issues of women, but over the last few years, it has failed in its role as a monitoring body of the government.
Former Chairperson, DCPCR, Amod Kanth expressed his dismay over the lacunae in the working of committees and commissions. He said we constantly witness diffusion of responsibility on the part of functioning of statutory bodies.
Director for Centre for Social Reseach, Dr. Ranjana Kumari said "We are ready to do all possible research work in framing effective policies for empowering women. She appealed to the women around the world that "The thing you have yet to learn is nobody gives you power.
Dr. Shobha Vijender expressed her disappointment over inability of Govt in bringing a strong law to protect the women. Seminar concluded with a note that appalling crime where mob of men molested a minor schoolgirl, stripping her and beating her by turns in the middle of a place is a reflection of deteriorating law and order situation in our country. Surely, it should hold up a mirror to all of us and lead us to ask what has gone so horribly wrong in our society, functioning of police administration, commissions and commitees. Leading panelist added that they will continue to take raise voice against the inefficient working of commissions and committees.
LATEST IMAGES

MORE...
Social bookmark this page
Post comments: