BJP blames Delhi government for crippling civic agencies
New Delhi, Fri, 20 Jul 2012
NI Wire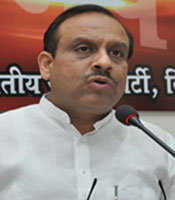 Delhi state BJP has said that the Congress Government is not able to adjust to the reality that BJP has won all the three Corporations. Due to this the Government is fully trying to cripple the three Corporations economically and in manpower also so that the Corporations may fail and the people may not get the amenities provided by the Corporations.
It is noted that Delhi BJP chief Vijender Gupta had written a letter to the Chief Minister demanding fund from the plan head, sufficient financial assistance by Delhi Government, Officers, and Staff, working space etc. for the three Corporations.
The Urban Development Minister Dr. Ashok Kumar Walia has replied to this letter. This letter contains misleading facts and the funds for which the Corporations are entitled have been termed as assistance by Delhi Government, which is ridiculous.
Gupta told that all the three Corporations collect 78 percent amount spent by the Corporations on the public welfare oriented works from its own sources. The rest 22 percent fund comes under Section-107A of the MCD Act for which the Corporations have constitutional rights.
The Government has deducted 50 crore rupees as interest and 119 crore rupees as the amount of loan of the principal amount and given only Rs. 28 crore to the three Corporations which is like drops in the Ocean.
Delhi Government has not provided a single rupee as assistance or grant to the three Corporations. It clearly indicates that the Government wants to cripple the Corporations.
LATEST IMAGES

MORE...
Social bookmark this page
Post comments: