Petermann Glacier of Greenland cut offs an iceberg twice the size of Manhattan
New Delhi, Thu, 19 Jul 2012
NI Wire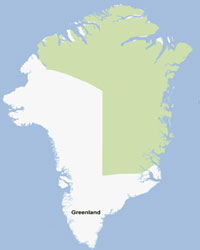 Petermann Glacier of Greenland has broken free a 46 square mile iceberg into northern waters.
The size is twice the size of Manhattan and was observed by NASA's Aqua satellite. Trudy Wohlleben of the Canadian Ice Service noted this break.
She said, "At this time of year, we're always watching the Petermann Glacier because it can spawn big icebergs that invade North Atlantic shipping lanes or imperil oil platforms in the Grand Banks off Newfoundland. A large piece of the 2010 iceberg did just that, but caused no damage".
In the year 2010, Petermann Glacier calved another monstrous ice island into the sea, which was twice the size of the one calved now.
Scientists had been observing this piece of chunk for the past two years when it showed a 15-mile long crack and now it has broken completely.
This has raised concerns among the scientist, as many of Greenland's southern glaciers have started melting at an unusually rapid pace.
LATEST IMAGES

MORE...
Social bookmark this page
Post comments: