India mulls to initiate action over fisherman killing by US warship
New Delhi/Washington/Dubai, Tue, 17 Jul 2012
NI Wire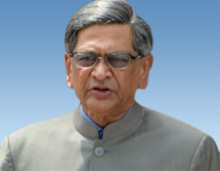 India is planning to initiate appropriate action in the killing of its fisherman by personnel on board a US naval vessel off Dubai Monday evening, official sources said.
India has also asked United Arab Emirate (UAE) where the shooting took place in Emirate's Dubai in the tense waters of the southern Gulf, to begin probe, sources added.
India is ascertaining facts into the shooting by personnel onboard USNS Rappahannock, a fuel re-supply ship, on a small motor vessel with the Indians near Jebel Ali port in which one Indian fisherman died and three other injured.
US on the other hand has conveyed its condolences over the death and ordered a probe.
External Affair Minister S M Krishna informed to reporters, "The government in the UAE has already filed the case regarding this incident."
"We are collecting details of the incident and will initiate suitable action," Krishna added.
The Ministry's spokesperson in a released statement said, "We will stay in regular touch with US and UAE authorities to ascertain full facts and take appropriate further action in the matter."
"We are deeply saddened by the loss of life of the Indian fisherman and the injuries sustained by the others. Our thoughts are with their families," the spokesperson added.
The US Defence Ministry on the other hand said, the motorboat ignored non-fatal warnings not to approach the refuelling ship USNS Rappahannock, and that sailors on board the American vessel feared it could pose a threat.
Meanwhile, US ambassador to India Nancy Powell telephoned Foreign Secretary Ranjan Mathai Tuesday morning to convey her "regret" for the loss of life and assured that the US government would conduct full investigation into the shooting.
In a statement, the US embassy in New Delhi conveyed its condolences to the families of the crew.
It also said that the incident is being probed.
The Indian embassy in Washington has been in touch with the US government since Monday, the spokesperson said.
--With IANS Inputs--
LATEST IMAGES

MORE...
Social bookmark this page
Post comments: