Niyogi Books releases "In Search of a New Afghanistan" by Sujeet Sarkar
New Delhi, Wed, 11 Jul 2012
NI Wire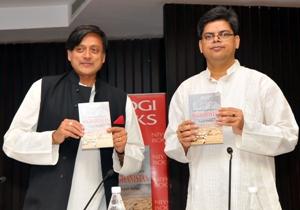 Niyogi Books on 10th July released it?s latest title book titled as "In Search of a New Afghanistan" at a function held at India International Centre, New Delhi. The author of the book is Sujeet Sarkar.
The book was released by Dr. Shashi Tharoor, Member of Parliament & Former Minister of State for External Affairs, who was invited as the chief guest in the function. Tharoor on the occasion appreciated the works and efforts of of the author as well as the publisher in producing this well researched and yet intimate account of contemporary Afghanistan. "This first hand analysis by Sujeet Sarkar is both informative and insightful" he said.
The author of the book Sujeet Sarkar gave an interesting presentation that was highly appreciated by the audience. The presentation was followed by an interactive session between the author and the audience. The audience included people from the field of art, literary and cultural of the city along with the media.
Bikash D Niyogi, Managing Director, Niyogi Books said, "it is a pleasure and privilege to publish this title which provides a daring new outlook and new perceptions of this war ravaged country."
Sujeet Sarkar is continuously engaged in promoting and strengthening democratic governance and civil society in highly sensetive and conflict-prone countries, for the past fifteen years. Sarkar is currently working as an international advisor, in a globally reputed organisation.
The inspiration of writing the book "In search of a New Afghanistan" came to his mind when he was actively staying in Afghanistan.
LATEST IMAGES

MORE...
Social bookmark this page
Post comments: