BRICS nations should develop small,medium enterprises: India
Johannesburg, Wed, 11 Jul 2012
NI Wire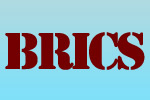 For the quick job creation and benefit for the communities and people, India has urged the BRICS nation to concentrate and priorities the development of small and medium enterprises. For the welfare of the people' government should nursed these business and also provide support in marketing, funding as well as aiding their technological needs.
India's High Commissioner to South Africa Virendra Gupta said that there is nothing more effective than the smaller and medium enterprises when it comes to job creation. Small businesses generate effective and real economic empowerment.
Gupta said that small and medium enterprises today contribute close to 50 percent of our industrial output and between 50 and 60 percent of our exports. They also contribute a great deal to our gross domestic product as well as to the industrial and manufacturing activities. Despite the economic downturn, which is affecting all countries including India, South Africa and other BRICS countries, India and South Africa economic exchanges have seen very robust expansion.
India is ready to share its experiences with other BRICS members in terms of the kind of industries suited to small and medium enterprises and the required policy framework, he added.
He said that India is sourcing large amounts of coal from South Africa while providing high quality but cheaper and more competitive pharmaceuticals to South Africa.
Gupta said that nearly 70 Indian companies will take part in this year's South African international trade exhibition, which will take place near Johannesburg July 15-17.It is noted that BRICS grouping comprises Brazil, Russia, India, China and South Africa.
(With inputs from IANS)
LATEST IMAGES

MORE...
Social bookmark this page
Post comments: