PM is 'politically impotent', says Bal Thackeray
Mumbai, Tue, 10 Jul 2012
NI Wire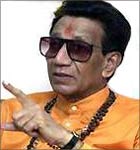 Analyzing the term 'underachiever' for Prime Minsiter Manmohan singh by Time magazine, Shiv Sena supremo Bal Thakrey has termed him as "politically impotent".On the other hand, he has criticized Time magazine for its business aspects, he has called for nationwide revolution against the government from Maharashtra to Delhi against the government.
In the latest party's mouthpiece Saamna issues, Bal Thakrey said that people had been wondering what underachiever actually means. In our language, it implies the country's prime minister is 'politically impotent'.
He further said that until now the domestic Indian media was rapping on his head but now even the international media is also kicking him. Comparing the situation of the country as difficult one, he contended that it is the high time for Prime Minister and Congress chief Sonia Gandhi to handed over the county to a person who can fight against corruption, the economic woes and the terrorism with a fighting spirit.
However Thackery has attacked on Time magazine also and said that Time magazine does not mean a person becomes big or small, since even that magazine is compelled to carry on its "business".
Some time ago, the same magazine had portrayed Gujarat Chief Minister Narendra Modi as the "most hated" Indian politician. "But he was hated only by the anti-Hindutva forces," Thackeray claimed.
In the article, Thackerey has calimed that Maharashtra ready for it, especially since it is also being taken to the dumps by a Manmohan Singh 'copy' (referring to, but without naming Chief Minister Prithviraj Chavan). There is a need for a revolution from Maharashtra to Delhi," he declared, sounding the bugle for the next assembly elections in the state due in 2014.
(With inputs from IANS)
LATEST IMAGES

MORE...
Social bookmark this page
Post comments: