Dreaded Maoist nabbed, wanted in many cases
New Delhi, Thu, 07 Jun 2012
NI Wire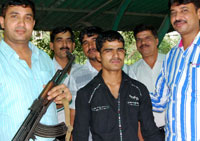 Crime Branch has arrested a Communist Party of India (Maoist) extremist who was wanted for murder and other militant armed activities in Jharkhand. Shiv Kumar alias Shiva is basically from Jharkhand. Police has recovered a sophisticated 9 mm bore pistol with two live rounds has been recovered from his possession.
Sanjay Kumar Jain, Deputy Commissioner of Police said that he is an expert in weapons handling, firearms and in preparation & blasting of Improvised Explosive Device. He has been deeply indoctrinated on Left Wing Ideology in the Saryu Jungles of Jharkhand.
Police received secret information that Shiva a wanted Maoist extremist from Jharkhand, would be coming to the area of Sanjay Gandhi Transport Nagar, Samaipur Badli, Delhi. A raid team was constituted and a trap was laid down. The raid team apprehended Shiv Kumar @ Shiva on 6.6.12 at about 03:30 pm. From his persons search, a sophisticated 9 mm bore pistol along with two live rounds was recovered from his possession.
According to police sources, on interrogation Shiva disclosed that he joined the CPI (Maoist) Party in the year 2008. He was even married to a girl through his mentors in the Party. He is close associate of Ravinder, who is the Area Commander or Commissar of the Narkopi region near Ranchi, Jharkhand. The Cadres in firearmas and explosive handling have trained shiv Kumar @ Shiva. He has undertaken firearms training and can dismantle a pistol in seconds. He is an expert in long-range fire with the INSAS Rifle, the 303 rifle, the SLR and AK-47. He always preferred the large weapon to smaller side arms. He has been trained to assemble and plant Improvised Explosive Devices as Landmines.
LATEST IMAGES

MORE...
Social bookmark this page
Post comments: