BJP backs Ramdev's movement against black money
New Delhi, Mon, 04 Jun 2012
NI Wire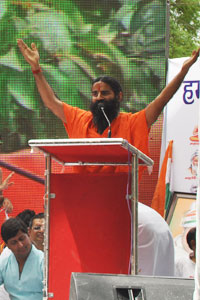 The Bharatiya Janata Party (BJP) on Monday came ahead to back the joint movement of Baba Ramdev along with Anna Hazare against black money, after a meeting of Ramdev with party president Nitin Gadkari at his residence here.
"Baba Ramdev's fight against black money is very important. We as the party support Baba Ramdev in this 'andolan' (movement). This is an agitation above party lines; this is for the benefit of the country," Gadkari said after the meeting Monday.
The BJP president touched Ramdev's feet and called it an Indian culture and a gesture of respect to the yoga guru.
"This movement is not against any political party. It is for the benefit of the nation," Ramdev said.
Moreover, Baba Ramdev also said he had also sought time from Congress president Sonia Gandhi along with the leaders of 10 other political parties to discuss the same.
"I will be meeting A.B. Bardhan (Communist Party of India) on 15th (June), Prakash Karat (Communist Party of India - Marxist) day after tomorrow, Sharad Yadav (Janata Dal - United) on 7th, and have also sought time from Chandrababu Naidu (TDP) and Uddhav Thackeray (Shiv Sena)," Ramdev said.
The meeting came just a day after Yog guru along with anti-corruption crusader Anna Hazare sat on a day-long fast at Delhi's Jantar Mantar on Sunday.
Gadkari said Sonia Gandhi should "rise above politics" and support the movements of civil society against corruption.
"I will request Sonia Gandhi, she should understand that this movement is not against any political party, She should rise above politics to save the country and support this movement. Bringing black money back is in favour of the nation," Gadkari said.
The Congress president defended Prime Minister quoting that the opposition and the civil society were conspiring with anti-Congress elements to sabotage the UPA government, the prime minister and senior ministers at the Congress Working Committee (CWC) meet Monday morning as per the reports.
-With inputs from IANS.
LATEST IMAGES

MORE...
Social bookmark this page
Post comments: