Pakistani Actress Veena Malik to play double role in her debut Bollywood film
New Delhi, Sat, 23 Jun 2012
NI Wire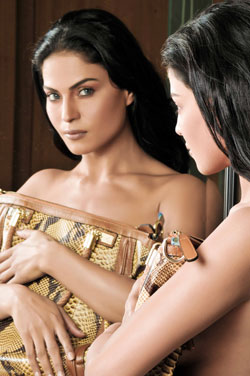 Pakistani Actress Veena Malik will be seen playing a double role in her debut Bollywood film Dal Main Kuch Kala Hai.
When asked about the role and will she able to pull it Veena Malik replied, "Playing a double in reel life its new thing for me. But In real life I actually play the double role of two girls inside me one is Zahida Malik and other is Veena Malik. I sure if I can play a double role in real life so it will be exciting to play a double role in a movie."
Veena Malik is a Pakistani actress who became popular in India when she became part of Bigg Boss 4.
She will also be seen acting in the Telugu version of Vidya Balan's "The Dirty Picture".
In the year 2012 Veena Malik will feature in Bollywood movies: Mumbai 125 km and Zindagi 50-50.
Dal Mein Kuch Kala Hai is releasing on June 29 2012.
LATEST IMAGES

MORE...
Social bookmark this page
Post comments:

Asim Quddus Warsi
June 23, 2012 at 7:43 PM