Movie Review: Brave, a story of a Princess that defies custom laws of society
New Delhi, Tue, 19 Jun 2012
NI Wire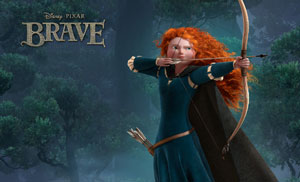 Director: Mark Andrews, Brenda Chapman
Writer: Mark Andrews, Steve Purcell, Branda Chapman, Irene Mecchi
Produced by: Pixar Animation Studios
Distributed by: Walt Disney Pictures
Central Characters: Merida (VO: Kelly Mac Donald), Fergus (VO: Billy Connolly), Emma Thompson (VO: Elinor), The Witch (VO: Julia Walters)
"Animation of Brave is excellent. But the film goes back to same old story of a ill-fated visit to witch, unexpected spell and the need to broke it in the later period despite of a good start".
"Brave" is set in Scotland in a rugged and mythical time. Film showcases Merida, a free-spirited girl rebelling against the male dominated society going ahead from just being the symbol of feminity.
Merida is the lead character who is a princess and a skilled archer of Scottish kingdom of DunBroch. Elinor is her mother and Fergus is her father.
Elinor wants Merida to be a proper young princess and doesn't want her to go gallivanting about on her own causing mischief.
Merida agrees to marry one of the three princes who will excel in archery. One of the prince accidentally wins but she then shoots all the three target herself making her mother furious.
Merida leaves the place in tear and runs away in the jungle where she meets the witch and asks her to change her mother in a hope that it might change her fate as well. Here the story starts to and goes on the same old path.
Spell makes things worse for Merida and it has to be undone before second sunrise or the affect will be permanent.
What spell did, how Merida solves it, to find answer to these questions watch Brave.
Brave is a one-time watch and is released in 3D as well.
LATEST IMAGES

MORE...
Social bookmark this page
Post comments: