Prez poll: TMC Chief to meet today UPA Chief
New Delhi, Wed, 13 Jun 2012
NI Wire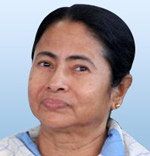 As the race of presidential election is reaching at the final lap, the name for the top post from UPA government is still mystery. However, Finance Minister Pranab Mukherjee is considerably assessed as the front-runner in this race while UPA ally's National Congress Party (NCP) leader P A Sangma is also in the list who is clearly getting the support of opposition.
But, the name of the candidate from major partner of UPA government has not been formally announced so far and it is estimated that Congress will declare the name after taking the confidence of some allies like Trinamool Congress and other parties that are supporting from outside to the central government like Samajwadi Party, Bahujan Samaj Party etc.
In this move, Trinamool Congress Chief and Chief Minister of West Bengal has come to New Delhi to meet UPA President Sonia Gandhi to discuss over the issue of Prez polls.
According to sources, there are speculations that Mamata who usually create hurdles for the government, this time may not oppose the nomination of Pranab Mukherjee, if he is finally declared as a candidature for prez poll from Congress party.
There is also speculation that UPA may announced a surprise name soon ruling out all speculations and estimations. Party has however, given some signal in this regard, but it is still cloudy to say something in this regard.
On the other hand, PA Sangma, who had promoted himself for prez poll is looking lagging behind from the speculative name of Pranab as his own party chief had expressed his displeasure over his self-promoting act.
NCP Chief Sharad Pawar had said that there is not enough candidate in NCP to support and defend the candidatureship of Sangma. He should first consult to the party before promoting his name for this post.
LATEST IMAGES

MORE...
Social bookmark this page
Post comments: